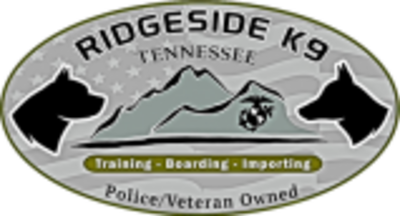 Find out how Ridgeside K9 Tennessee dog training bridges the gap of miscommunication between dogs and their owners in Loudon, TN
Loudon, TN – Ridgeside K9 Tennessee Dog Training has over 30 years of experience in the dog training industry and has successfully helped thousands of dogs improve their quality of life using a variety of techniques. The company's trainers are qualified professionals who can deliver a world-class effective result that enhances harmony and bridges the gap of misunderstandings between dogs and their owners. They specialize in training new puppies as well as adult dogs.
Ridgeside K9 Tennessee Dog Training boasts of a dedicated team of dog trainers with unique backgrounds and years of experience training civilian dogs. The team includes Justin Rigney, Alison Rigney, Lauren Misunas and Jonathan Acker.
Trainer Justin Rigney has over 25 years of professional dog training experience and spent 10 years as a handler and K-9 trainer. Their success in training dogs nationwide as a business has earned them the trust of customers and numerous customer referrals. During a testimonial, a client said this about the team: "Justin is always a pleasure to train with. Instead of just showing you, he takes the time to explain when, where and why. It is quite evident that Justin has a unique and special gift in training dogs and teaching dog handlers. He understands dogs and, above all, respects them. I am very grateful to have had the opportunity to train with Justin!
Ridgeside K9 Tennessee Dog Training offers an exceptional plank and train program that is just perfect for any type of dog breed. This training technique involves physical and mental conditioning to allow dogs to learn new skills and overcome behavioral issues such as bad habits. They have successfully trained thousands of dogs all over the United States and have consistently been rated 5 stars by their previous clients for demonstrating impeccable professionalism in their services.
In addition to their Board and Train program, Ridgeside K9 Tennessee Dog Training offers effective and professional puppy training to help puppies learn new basic skills such as obedience, patience, and self-discipline. They also offer private dog training services in Loudon, TN, and its surrounding areas.
The Trust Dog Training Center operates Monday through Saturday, 9:00 a.m. to 7:00 p.m. Their price varies according to the program requested and can only be confirmed by contacting them directly.
Ridgeside K9 Tennessee Dog Training is located at 1700 Jacobs Road, Loudon, TN, 37774, USA. Customers can schedule a free phone consultation with the company by calling 865-285-0303. You can also learn more about Ridgeside K9 Tennessee Dog Training by visiting their website.
Media Contact
Company Name
Ridgeside K9 Tennessee Dog Training
Name of the contact
Justin Rigney
Call
865-285-0303
Address
1700 Jacobs Road
City
Loudon
State
NT
Postal code
37774
Country
United States
Website
https://www.ridgesidek9tn.com/