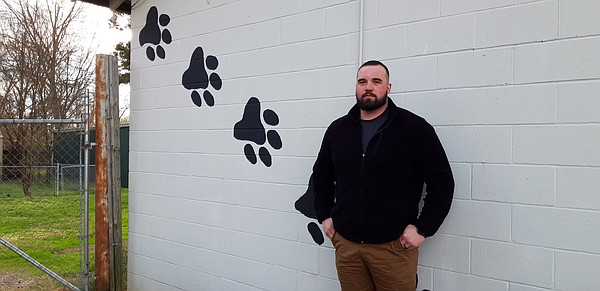 K9 officer opens dog training school in Texarkana
TEXARKANA, Texas — Not many manage to turn a passion into a profession. However, part-time Bowie County Sheriff's Deputy Nick Moses managed to pull it off.
"I love dogs, I've been with them all my life," he said.
That's where it all started, that trail that led him to take over the former Two Shields, a dog training and boarding business; The former operator had to retire.
"In addition to spending my life with dogs, I joined the military and worked in communications, which included time in Afghanistan," he said. "It got me used to uniformed service. Although I didn't stay in the military, I ended up going into law enforcement after I left the service. I joined the sheriff's department of Bowie County as a patrol officer. But while I was doing this, I introduced myself to the narcotics officers.
This turned out to be the key to becoming a K9 officer, as they are among those who work with dogs the most. Eventually I was offered a position in the K9 unit."
As Moses learned about this job, he discovered that most of what a K9 officer does is working with the dogs and reinforcing their training. Learning how to train a dog to do this job from scratch, as well as obedience training in general, was another ball of wax. But eventually, by finding a good training school at the Cyprus Arrow Kennel & K9 Academy in Louisiana and funding it through the GI Bill, he found his next step.
"I took a part-time K9 position in the county," he said. "It allowed me to continue the openness made available with the Two Shield facility now open for use."
Moses' business, Reliant K9 Training Academy, is currently just a training school, not a boarding school. He has expansion in mind, but that will come with time. Right now it has its first student and has been open for a month.
"I really like dogs a lot," he said. "And after being K9, I really like coaching them. So I'm in the business now."
(The Reliant K9 Training Academy is located at 6621 W. 7th St. Call 430-200-4988 or email [email protected] for more information.)