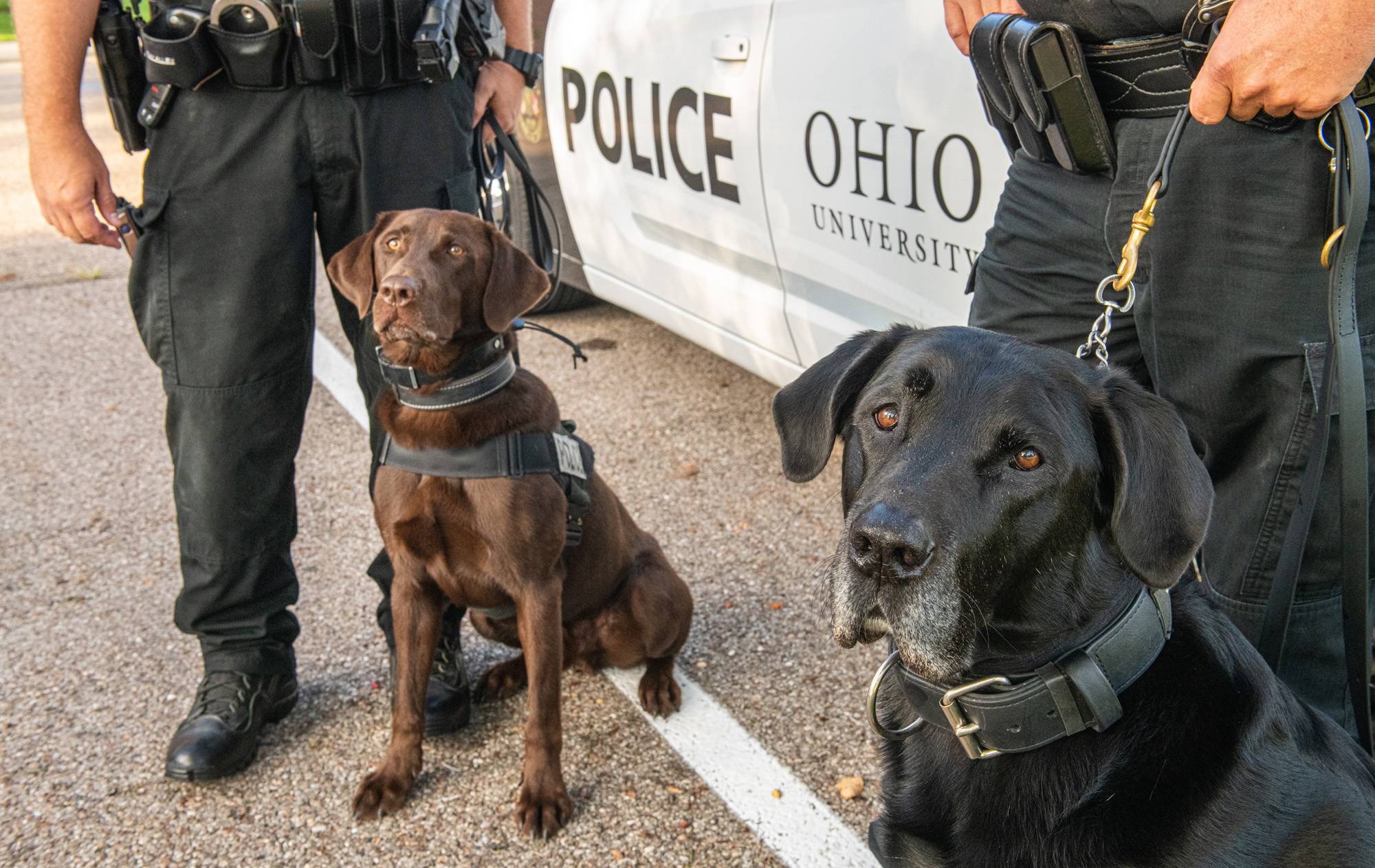 Sniff. Sniff. Sniff.
Whether they're catching a football game, watching a concert, or heading to class, Ohio University students have the chance to meet two furry officers from the Ohio University Police Department (OUPD) who have their noses against the ground – Alex and Bach.
Explosive detection canines smell constantly. That's how they work.
Although they have normal dog habits like watching deer or squirrels and liking to scratch their heads, they are trained to detect 23 different types of scents related to explosives. From plastic explosives to dynamite, dogs are trained to alert their handlers if they smell anything out of the ordinary.
For Alex, he is rewarded with food. For Bach, he can chew on his favorite tennis ball. This lets them know they've done a good job.
Alex and his handler, Officer Tim Woodyard, have worked together at the Ohio University Police Department (OUPD) since 2014. On October 1, the two will retire, with Woodyard giving 22 years of service to the University and Alex serving eight.
"He's nine years old and he's getting to the point where he's slowing down. Some of the bigger all-day events take a lot more energy out of him than before," Woodyard said. "It's better to pull it out now with me than to really push it."
Bach, however, is just getting started. At four, he's a little older than he started as a canine officer, but his handler, officer Brandon King, is no stranger to college. He has worked alongside Woodyard for 21 years and is excited about this next chapter with Bach.
While Alex is a rescue dog, Bach is a chocolate American Hunting Labrador Retriever. Not originally purchased to be a canine officer, it was donated for the program. King and Bach completed explosive detection dog training in May.
"When looking for a dog, they often look at their drive and determination," King said. "In training they are tested to see how they do with loud sounds, pitches, things like that. The most fearless and confident dogs with the most drive normally make the best K9 officers.
Although there is rarely a real alert, the dogs are trained daily. The officers hide small explosive decoys for the dogs to find. It keeps their senses sharp.
"When we attend training with other dog teams, we often see how excellent our dogs are. That credit really goes to the leaders who have emphasized that dog teams are teams first. canines," Woodyard said. "Our priority is to make sure these dogs are as good as possible, and not every department gets that luxury."
Bach and his handler, Officer Brandon King, walk through College Green. While King served over 20 years at the University, Bach is his first K9 partner.
"Hi, new kid on the block! It's Bach's first fall semester at work. He is a chocolate American Hunting Labrador retriever and was given to the OHIO program to be a canine officer.
Alex is a rescue dog. His drive and energy stood out among dog shelter workers, and he was well on his way to becoming a canine officer. He will have served eight years with handling agent Tim Woodyard.
Students are likely to come across Bach and King as they patrol campus each day.
Often, K9 teams travel to various events across the state to lend their support. Whether it's a major concert, sporting event, political detail, parade or, most recently, the 2022 Pro Football Hall of Fame Game in Canton, Ohio, Officers Woodyard and King assist with their partners to ensure events are safe and secure. Being able to attend big events with Alex has been a favorite opportunity for Woodyard.
"I'm grateful for the men and women I work with every day, but working with Alex is the icing on the cake for me and the opportunities that come with it," Woodyard said.
When not sweeping or at an event, canine officers can be found on campus, bringing smiles to OHIO students, faculty, and staff.
"He's so happy," exclaimed a student after Bach came to say hello one day in August. "What a good boy! »
"I'm really excited! Can we pet them?" another said as the two dogs and their handlers walked into a freshman orientation class.
After two students greeted Alex in the library, one turned to the other and asked, "Does that make you miss your puppy more?" The other nodded in response.
Woodyard and King agree that socialization is important for dogs. It helps them to be part of the community. For many students who come to Athens, they are often away from pets.
"During the first two weeks of school and finals week, I have tons of people coming in asking to pet Alex. They just love him. You can tell they really miss their own pets. home," Woodyard said. "He gives them comfort."
During his years of service, Alex has been a popular face on campus. For three consecutive years, Alex has been named "Athens' Top Law Enforcement Officer" in The Athens News.
"It was really good because the students elected him," Woodyard said.
Although the primary role of dogs is to keep the OHIO community safe, they are also a source of comfort to many. If not sweeping or practicing, students are welcome to come and ask if they can pet the dogs. Bach and Alex will also thank them – with tail strokes and kisses.
Mentioning his upcoming retirement, a student asked Woodyard if he was looking forward to it. "I am, but he won't be," he said, nodding at Alex. "It will be more difficult for him to retire than for me."
As Alex and Woodyard officially retire on October 1, the OHIO community is in safe hands with King and Bach.
"We have big shoes to fill," King said. "Tim has created a great K9 program here and I want to follow in his footsteps. I love dogs so I'm really looking forward to this dedicated K9 role here at the University.
"What a good boy! Canine officers regularly check mailrooms on campus, making sure packages are safe.
A freshman from the Heritage College of Osteopathic Medicine says hello to Bach.
Officer Tim Woodyard will retire after 22 years of service at Ohio University. Some of his favorite times have been alongside his partner, Alex.