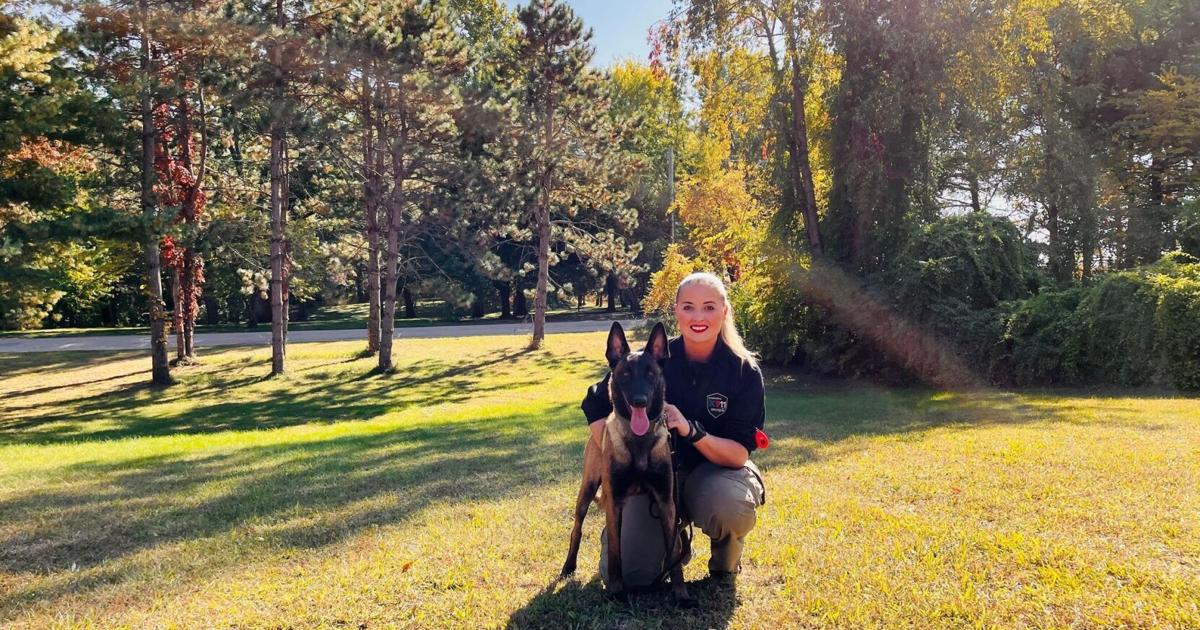 Muscatine rescue dog with natural detection abilities adopted by K9 trainer
MUSCATINE – Many dogs currently in shelters are waiting for their perfect forever home and are ready to be the perfect pet. But for other dogs, like Pocket, there's a different path that works just fine for them.
Last week, Pocket (formerly Payton), a 7-month-old Belgian Malinois who was rescued by It Takes a Village (ITAV) Animal Rescue and Resources, was adopted by Jenny Lea Wyffels, behavior consultant/K9 trainer and owner of Canine Cooperative Concepts. Thanks to this adoption, Pocket not only has a forever home, but a new role as an ambassador for the Wyffels company.
Before being officially adopted, Pocket was nurtured by Jessie Ng, who quickly began to notice Pocket's talents and natural abilities for detection. Realizing that Pocket had working dog traits, Ng contacted Wyffels, asking him to evaluate Pocket.
Initially, Wyffels shared that she wasn't sure about Pocket.
"Although we use the Belgium Malinois in K9 work, just being this breed does not necessarily preclude this animal from being a good candidate for this type of work. In fact, I would most often say that race itself has nothing to do with applying for the job," she explained. "Not every shelter dog can become a K9 police dog."
His opinion began to change, however, after seeing the results of the "hunting tests" Pocket took part in – tests that measure whether or not a dog possesses the necessary qualities required for a detection dog, specifically the desire to chase objects with their noses. Wyffels then took Pocket to several public locations such as Farm and Fleet, Lowe's, and PetSmart for additional hunt tests.
"Dogs that are good at this kind of work will remember the ball and just have to have it and keep looking for it. 'great working K9s because of that obsession and other qualities,' she said.
With each test, Pocket continued to perform brilliantly, showing both talent and enthusiasm for each of his hunts.
"Wherever I took this dog she was absolutely amazing and just kept getting better," Wyffels said. "I think she has the most natural ability I've seen in a dog on a hunt test in over a decade."
At this time, Wyffels felt like she couldn't send Pocket to another organization and instead needed her to stay there and be an ambassador for narcotics work as well as the rescue adoption.
"She was too good to refuse," Wyffels said.
Instead of being donated or sold to a K9 police department, Pocket will continue to live with Wyffels and will primarily serve as an ambassador/show dog for Wyffels' business, attending workshops, ongoing training and events. seminars with other K9 departments to show departments and other trainers what K9 detection dogs are capable of. In addition, it will also take contracts for detection work in the private sector.
Wyffels said her biggest hope for Pocket is that she can continue to do exactly what she does now, while showing how people can sometimes find phenomenal K9s at local shelters.
"She continues to surprise us, and I hope she continues to surprise everyone who meets her. We hope dogs like these encourage departments that may not have the funds and resources to go through typical K9 programs to reach out and show interest in maybe taking a K9 as a rescued resource," she said.
"(Pocket) is such an amazing dog," said ITAV President Meagan Koehler. "Obviously (Wyffels) knows what it takes for these positions, and for her to see what she sees in Pocket just reaffirms everything our adoptive mother, (Ng), had also said. We we're so excited that this is what the future holds and we're so proud of Pocket.
"These dogs aren't in positions where they can thrive without rescues like ITAV and without people like (Koehler) and (Ng) recognizing when a dog is probably not the right pet for the pet. medium and trying to find their right placement," Wyffels said. "There are so many dogs in shelters that need to be evaluated for K9 work, and it really takes advocates to keep pushing us to meet them."