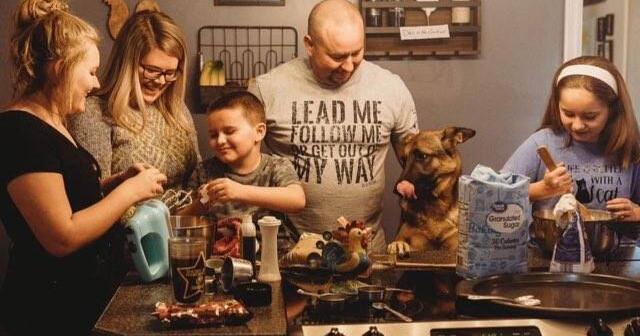 Partners: GPD Sgt. Chris Bridges and K9 Echo | Local News
GREENSBURG – Greensburg Police Department Sgt. Chris Bridges is one of three managers associated with a K9 at the GPD.
Bridges is the primary manager/owner of K9 Echo, a drug-sniffing and tracking dog. They have worked together for four years.
Echo is 5 years old, and because she was a rescue dog, some details about her childhood are unknown.
"They traced her journey and they think she started overseas. Then a family owned her, and when they moved they couldn't take her to their new home, so she was given up for adoption to an animal shelter," Bridges said.
The shelter manager contacted Julie Case, master service dog trainer and owner of Ultimate Canine in Westfield. The GPD purchased all of its dogs – Hercules, Kato and Echo – from Case.
What's new about Echo is that she was bred to live in someone's house as a pet. The other canine members of the GPD's K9 program have been specially bred and trained for police work. Police dogs are usually the product of careful breeding designed to prepare them for the rigors of police work.
Echo was an excellent pet, but his intelligence seemed geared for a higher calling.
"You have to see this dog," Case told Bridges.
And, as the saying goes, the rest is history.
"She went through regular training, but she just seemed born for this," Bridges said.
German Shepherds are susceptible to degenerative myelopathy, a progressive neurological disease of autoimmune origin affecting the spinal cord. They are also prone to hip and elbow dysplasia. Police dogs are usually selected from a group of animals that have had such illnesses.
Early in her K9 career, Echo suffered a partial tear in her anterior cruciate ligament (ACL), but with veterinary care she was able to forego surgical treatment.
"I try to help him as much as I can because it's always the hips that are the problem," Bridges said.
But Echo seems to be particularly well suited to her job.
"She never stops until I tell her," Bridges said.
While she was recovering from her torn ACL, all of her toys had to be taken away from her to allow her body to heal.
"You could throw the ball for her and she wouldn't stop chasing it until her body gave out," Bridges said.
Echo is so dedicated to her job that she needs extra attention when following up.
"If a smell came up a flight of stairs and out through a balcony, it would jump. She's so focused," Bridges said. "So I have to worry about his personal safety. I constantly have to work obedience with her, and therefore I work her a lot off leash. Her favorite reward is bacon, but when she's on the job, she'll choose the smell of narcotics over anything else," he said.
Amusingly, Bridges describes himself as "the big dumb leash animal".
"Sometimes when we're working, I feel like I'm in the way of her," he said. "I just slowed her down."
Echo's house is a 24 X 24 pad with a kennel and a private fence. Grass space is also included.
"We call it 'the Taj,'" Bridges joked.
Bridges summed up the relationship he shares with Echo in a few sentences.
"She is part of my family. She is a very expensive investment for the community, and bless them for that. She comes in and hangs out with us; we installed a dog door in his kennel. But in my opinion and my tone, she can instantly go into duty mode, and that makes her the best partner I've ever had," he said.
The GPD is hosting a golf outing today to raise funds needed to support the K9 program, but donations are welcome throughout the year. Contact the DPM at (812) 663-3131 to find out how to make a contribution.