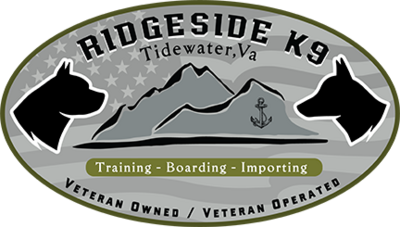 Ridgeside K9 Tidewater Dog Training is a leading dog training company in Williamsburg, Virginia.
Williamsburg, Virginia – Dogs are very social creatures, so it's no wonder that training is such an important part of their lives. Their ability to understand and respond to commands is a key part of their relationship with their owners and their place in the pack. By teaching them basic obedience commands, owners can help them understand what is expected of them and set the foundation for a happy, lifelong relationship.
For dog owners in the Tidewater area of ​​Virginia and surrounding areas, Ridgeside K9 Tidewater Dog Training is the premier destination for dog training. With over a decade of experience, this facility offers a variety of services to help dogs and their owners bond and build a trusting relationship that will last a lifetime.
The dog training packages offered by Ridgeside K9 Tidewater Dog Training are designed to meet the needs of every dog ​​and owner. Their team of certified professional dog trainers work with each owner to create a personalized training plan that fits both their needs and lifestyle. These professionals have a wealth of knowledge and experience working with all types of dogs, so they are able to create a training program tailored to each dog's unique personality and needs.
One of the training packages offered by Ridgeside K9 Tidewater Dog Training is puppy training. This package is meant to create a strong foundation for puppies and help establish rules, boundaries and expectations for their families. Puppies learn basic obedience commands including sit, stay, come, lie down and heel. The package also covers basic manners, potty training habits, socialization/environmental exposure, leash walking, etc. This training is done at home so puppies can learn in a comfortable, familiar environment.
Their most popular package, board and train, is an all-inclusive service that offers dog owners a complete training solution. This package includes board, train and accommodation for the duration of the dog's stay. During this time, the dog receives daily training sessions with a certified professional trainer to learn the applied commands and behaviors necessary for a happy, obedient companion. Upon the dog's return home, a private lesson is scheduled to ensure a successful transition and transfer of training. This package is ideal for newly adopted dogs that need help adjusting to a new home/lifestyle, dogs with behavioral issues, dogs that lack confidence/fearful/shy, etc.
Additionally, Ridgeside K9 Tidewater Dog Training offers a comprehensive aggression rehabilitation program based on a clear understanding of canine aggression and its many different forms. Through the use of positive reinforcement training methods, problems with aggression can be successfully corrected and problems with aggression resolved. Their trainers understand the science behind dog aggression and know exactly how to effectively retrain aggressive dogs. Other services offered include private training, dog daycare and boarding.
All of their training programs are available at very competitive and affordable rates. Additionally, they have partnered with LendingUSA to provide affordable financing options so customers can easily cover their training expenses.
Ridgeside K9 Tidewater Dog Training is located at 1596 Penniman Rd Unit C, Williamsburg, VA, 23185, USA. To schedule a free consultation, contact their team at 757-514-3242. For more information on the services offered, visit the Ridgeside K9 Tidewater website.
Media Contact
Company Name
Ridgeside K9 Tidewater Dog Training
Name of the contact
Matthew G. Powell
Call
757-514-3242
Address
1596 Penniman Road Unit C
City
Williamsburg
State
Virginia
Postal code
23185
Country
United States
Website
https://www.ridgesidek9tidewater.com/