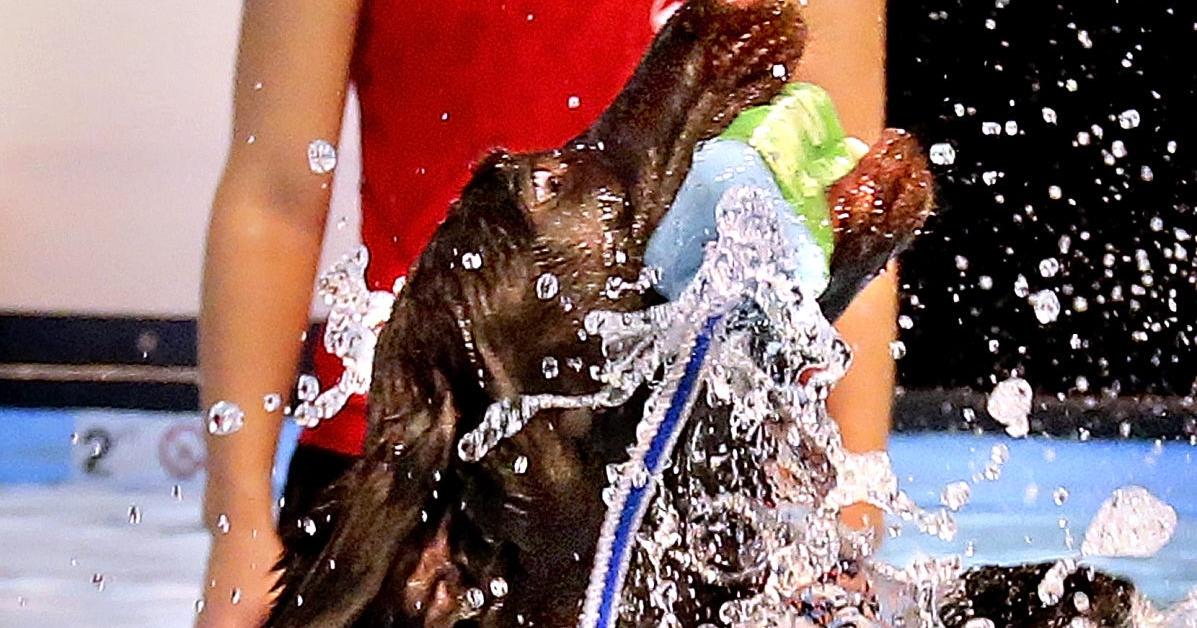 Ridgeside K9 Winchester makes a splash and opens the region's 1st aquatic center for dogs | Every day
Whether it's relaxing in a hot tub, swimming laps, cruising the Shenandoah River, or driving I-95 to the nearest beach, when humans want to relax a little, they often turn to water. It's no different for our furry friends. Water can be a dog's best friend. And there's a new business in Winchester inviting you to "book your pet's stay in paradise."
Paradise, in this case, is in many ways like "home," if your home has a dog-friendly indoor pool in addition to comfy beds for downtime, toys, and places to socialize. and play. The Ridgeside K9 Winchester Aquatic Center recently opened in Frederick County's Gateway Mall on Berryville Pike, just a few storefronts from the Ridgeside K9 Doggie Custody and Training Center.
Ridgeside K9 owner Aaron Taylor and his staff hope the dogs and their owners will feel comfortable as soon as they enter the business.
The facility includes treadmills, an outdoor exercise area, and 24/7 staff that allows dogs out every 90 minutes. "It's a family environment. There are always people around," Taylor says. He says the constant presence of staff puts the dogs at ease, so there isn't the same amount of barking you might hear in traditional kennels.
What the 24/7 staff also offers local dogs the chance to splash around in a 51,000 gallon pool at the aquatic center. Taylor thinks it's the largest indoor pool in the country dedicated to dogs. This equipment sets Ridgeside K9 Winchester apart from the company's 11 other locations in seven states. The company, currently based in Loudoun County, is set to make the Winchester area its center of operations.
The width of one side of the pool at Ridgeside K9 Winchester has dog-friendly stairs for easy entry and exit. It is equipped with special filtration equipment to keep dogs and humans healthy. Most of the pool is 2 feet deep. However, the deep end peaks at 4ft 9in. This allows dogs to be trained to ride the paddle boards, kayaks and canoes available at the center. It's a saltwater pool, which is especially nice for dogs learning to swim, according to Taylor, because it gives extra buoyancy.
A US Navy veteran and former police officer, Taylor knows how to operate around water and training environments. It also includes the type of trauma that first responders and veterans may face. Therefore, in addition to training and helping dogs, the company also has a people-oriented mission. Ridgeside K9 seeks to help former first responders, ex-police officers, military veterans and others who have served the public in high-stress, service-oriented jobs – "put down the pills, put down the bottles and grab a leash ".
Taylor strives to hire local people and takes employee retention seriously. In Virginia, Taylor says the company has 100 people on the payroll. Ridgeside K9 has lost only four of these personnel in eight years. He attributes this to good pay and hiring top-notch people and trainers. Valuable employees include Taylor's wife and former police officer, Colette Cunningham, and Jeff Aman, a Navy veteran. Taylor says the two play a key role in helping Ridgeside K9 Winchester thrive.
Ridgeside K9's business model and mission—people helping people, people helping dogs, dogs helping people—seems to make operations seamless in what could be a chaotic situation. On a Tuesday at 2 p.m., all the treadmills in the training center are full. Dogs of all breeds and sizes trot silently side by side. In the middle of the training room, several large dogs sit obediently on dog beds and watch as another dog is trained on a leash.
Aside from the music being played, the kennel area is relatively quiet. Staff members circulate among the dogs. They tidy up, talk to dogs, and get some ready for activities – whether it's time outside, treadmill walking, training, or swimming.
Meanwhile, at the aquatic center, a shepherd paddles quietly in the pool with a trainer, learns to swim and fetches a ball which he throws further and further. The dog's companion offers calm words of support from the bridge.
Taylor believes dogs, just like people, benefit from interaction, exercise and engagement. He says some anxious or "hyperactive" dogs might avoid taking medication if exercised well and kept engaged.
There are three main ways dogs enjoy pool time, Taylor says. "Where the pool is really good for all dogs is safety. Teach them how to swim. It's a life-saving skill."
While some dogs are bred for water activities, other dogs don't find swimming natural. Taylor says testing the waters in a one-on-one situation in the indoor pool where there are dog-friendly life jackets, trainers and accessibility features is a good way to explore a dog's comfort and ability. in water.
"The second part for some dogs that are obese or have other issues is getting them into an environment where it's easier for the joints to exercise," Taylor says. Swimming provides good non-impact exercise once dogs get the hang of it. One minute of swimming is equivalent to four minutes of running for dogs, according to veterinary surgeon and canine physiologist Dr Arleigh Reynolds, quoted on the Ridgeside K9 website.
"The third area is rehabilitation," says Taylor. "Hydrotherapy has great benefits" if a dog has been injured or has had surgery. The pool is maintained at a constant 85 degrees to provide adequate heat for therapy.
Ridgeside K9 Winchester faced many setbacks during the development of the aquatic facility. It took longer to get up and running than Taylor expected. However, he says the learning experience was "awesome" and the 18 months of work and renovation was worth it. "We achieved our goals," says Taylor. "People are happy with the facility."
Clients can join the pool without the presence of a trainer or with a trainer at no additional cost. Life jackets, equipment and boats are also available at no additional cost. Dog owners can bring up to two of their dogs for $50 for a private 30-minute swim. If a dog is boarded, owners can pay $15 to have their dog dive during a stay.
The company plans to expand its aquatic offerings and outfit the center with aquatic canine athletes to train in dock diving, recovery sports and more.
Perhaps informed by his experience with the Marines, Taylor and his team dove headfirst into new waters when they set out on a mission to create Winchester's first aquatic dog center. So far, the crew is not just walking. It moves like a tight ship surrounded by dogs paddling happily alongside.
For more information, visit ridgesidek9winchester.com or call 540-270-7132.