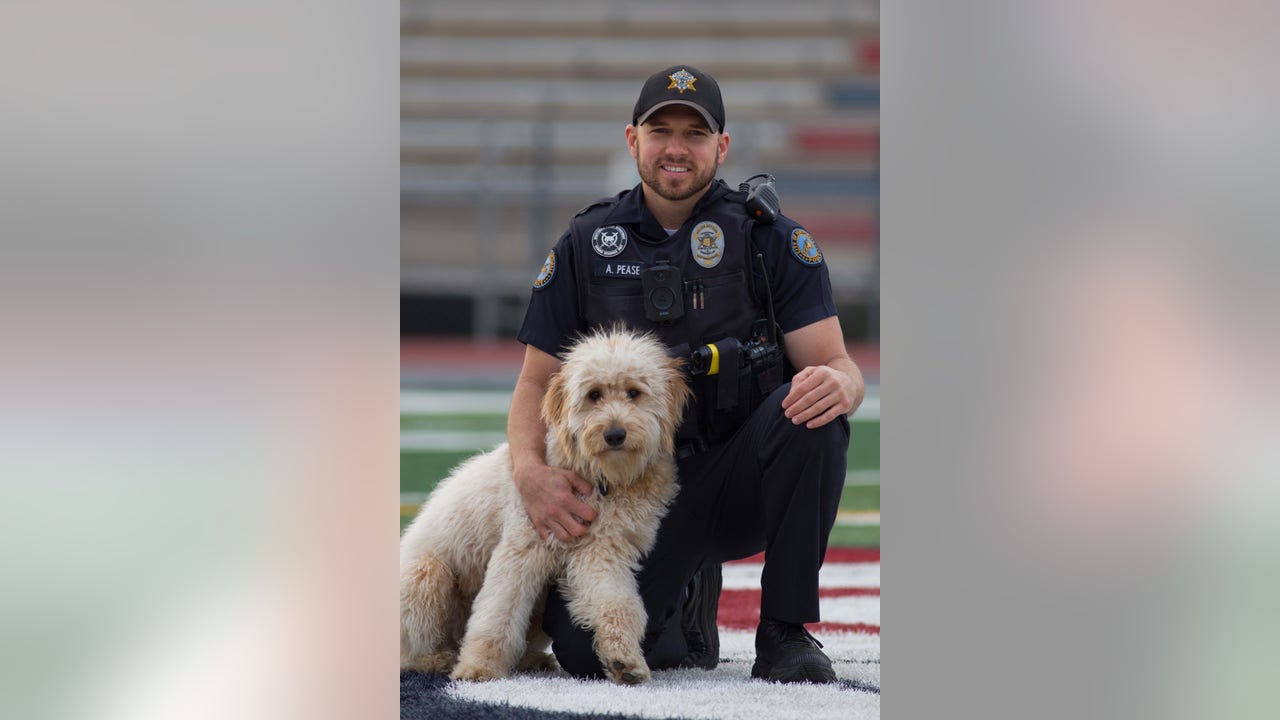 Scottsdale Police K9 'Captain' is here to help during a crisis on school campuses
SCOTTSDALE, Ariz. – the Scottsdale The police department announced its newest member of the force. Captain.
Captain, a 9 month old baby golden doodle of Peoria, is the second police K9 to be assigned as a School Resource Officer (SRO) for the police department. He is with SRO Alvin Pease at Coronado High School, but also travels to other schools in South Scottsdale.
"He is a certified facility dog ​​and a trained dog who helps people suffering from anxiety, depression, or a manic state with increased cortisol levels," says Sgt. Kevin Quon.
He adds: "The captain's duties will include providing comfort to victims, calming high stress situations and bridging gaps with students and community members."
When a young person is going through a mental health crisis, the ministry says SROs are often the first people they see. Now they will also have the captain to help make an incredibly difficult situation a little less tense.
Captain has been in high school since January, and thanks to him and Pease, staff say they've noticed a big difference in students while they're in school. He is loved by all the students and that is partly why he can do his job so well.
"When they see Captain, it relaxes the mood and focuses on him and gives me a chance to interact with them more, to see how their lives unfold as they receive Captain's love," Pease explained. .
They walk around campus, monitor students, and work with anyone going through a crisis.
"When people are calm, they feel more comfortable and they can really share what's troubling them and I can offer resources they might not know about," Pease said.
The captain is trained to recognize when someone is stressed and help relieve it. He is also there for any student who wants to say hello.
"It helps students communicate better with us and helps them to be calm. You are more likely to learn and grow as a student if you are calmer and more comfortable on campus and the captain fills this gap FOR SOME OF OUR STUDENTS," says Principal Amy Palatucci.
This program has been a game-changer for her students and staff, she says, and they look forward to many days with Captain on campus.
"You can feel the difference on campus when students have the ability to interact with the animal that's there to love them," Palatucci said.
Pease says of his four-legged partner, "It's so fun to watch him interact with the students. He loves everyone. He's a lover and there's nothing mean about his body."
The captain is able to help on campus with donations through the Scottsdale Unified School District Foundation.
Captain is the Scottsdale Police Department's newest crisis K9 to assist School Resource Officers on their campuses. Photo courtesy of the Scottsdale Police Department
Related stories:
Tune in to FOX 10 Phoenix for the latest news: