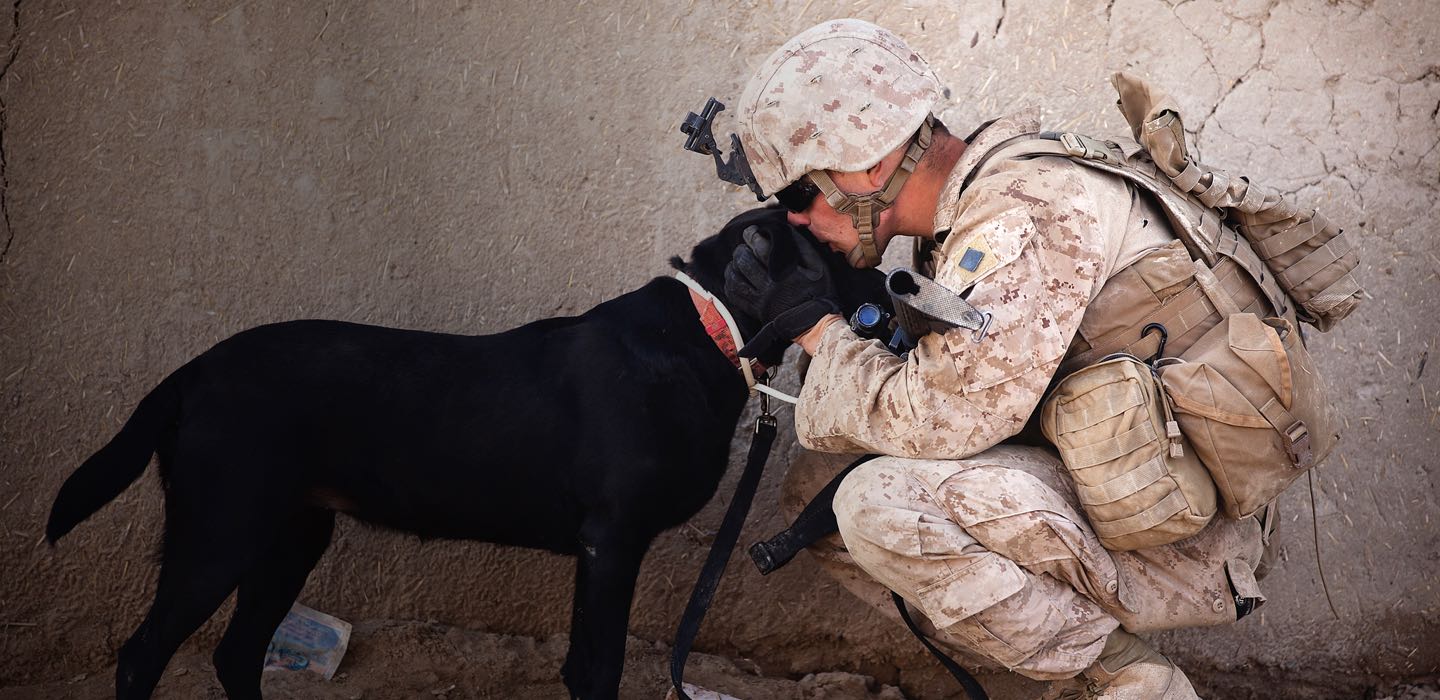 Support Our Four Legged Veterans on National K9 Veterans Day – American Humane
November 11thand is the date we officially honor our brave service members who take an oath to protect and serve the United States. In March, however, we pay homage to their hairy-pawed, wet-nosed companions who fearlessly operate alongside American troops in battle. This Sunday, March 13 is National K9 Veterans Day, a celebration of the thousands of dogs on the front lines of military battlefields around the world, as they valiantly serve in conjunction with their human counterparts.
Military working dogs have been an integral part of service in the United States since the founding of the nation. During World War I, as American Humane acted on its "First to Serve" mission by rescuing wounded war horses across Europe, military working dogs were also used by American troops as boosters. morale boosters and mustard gas detectors, improving spirits and protecting lives. In the process. The services of these brave dogs were codified into the overall program of the United States Armed Forces on March 13, 1942, with the formal establishment of the "K9 Corps." Now, with the evolution of techniques of warfare in the 21st century, these dogs serve an invaluable purpose sniffing out improvised explosive devices during combat missions around the world, using their 220 million olfactory receptors to save countless lives by improving the military's IED detection rate 80% American.
There are currently over 1,600 dogs deployed on active duty today, and their service to our country cannot be overlooked simply because these veterans enjoy playing fetch more than your average Navy Seal. As the nation's premier humanitarian organization, American Humane is proud to serve these heroic dogs who serve us so selflessly.
Thanks to the generous philanthropy of Lois Pope, veterans advocate and American Humane board member, we opened the Lois Pope LIFE Center for Military Affairs, an invaluable resource for service members on both ends of the leash. . The center helps reunite retired military working dogs with their former handlers, cementing an unbreakable bond born in combat by giving these veterans the most important gift they can ever get: each other. Through our Pups4Patriots program, we also provide veterans suffering from post-traumatic stress and traumatic brain injury with life-saving service dogs that enable them to live more fully engaged and enriched lives.
American Humane is committed to recognizing these canine contributions through celebrations like the Lois Pope LIFE K-9 Medal of Courage and the Hero Dog Awards, which honor the sacrifice of these incredibly loyal pooches. One of those lucky Labradors, Staff Sargent Summer, retired from the United States Marine Corps in 2013. His tireless work searching for weapons caches, troop routes, and IEDs earned this smiley of 10 years the Military Hero Dog Award 2021.
Do you know a military working dog who deserves recognition for their valiant contributions to our country? Nominate your deserving dog for our 2022 Hero Dog Awards by visiting https://www.americanhumane.org.
While March 13 is the conventional day to credit these dogs, it's never a bad time to recognize our furry friends who do so much to help our military, whether it's saving the lives of veterans on the battlefield or to help them live life to the fullest when they return home. Throw them a bone and join us in honoring these brave puppies who mean so much to our veterans when deployed and, sometimes even more importantly, when they return home.