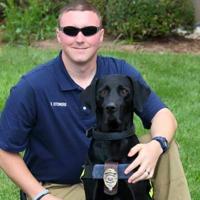 Troop Police Raises Funds to Relaunch K9 Program | News
The Troup Police Department is raising money to replace their former police dog Luke, five years after his retirement and four years after his death.
"He was part of the team; he was part of the Troup PD family," said Sgt. Kyle Stowers, Luke's manager and partner. "It took a while for the whole department to be ready to relaunch our K9 program."
Stowers said he and Chief Pat Hendrix had been discussing a new police dog for a few years, but a decision wasn't made until more recently. However, funds for the dog had not been considered when creating the annual budget.
"We'll have to see if we can raise the funds somehow in order to get the process started," Stowers said.
On March 9, the ministry posted an announcement on its Facebook page that it was seeking community help in raising funds to reinstate the K9 program, with a goal of $15,000. There was a quick and positive response, with the department receiving around $7,800 in just eight days.
The Troup Police Department received the first donation of $2,500 from a person who chose to remain anonymous. Additional amounts of $100 and $200 were also donated anonymously. Murray and Lisa Chapman of the Community Integration Project donated $5,000.
"It tells us that we have the support of the community," Stowers said of the donations, adding that he thinks the response indicates residents' desire to help keep the community safe.
The $15,000 requested by the department will cover the purchase and training of the dog, officer training, vet bills and equipment, including a cage for the vehicle that can be used either for the police dog or for an arrested person.
A fundraiser is being held on Saturday, May 14 by Dixie Masonic Lodge #272, located at 106 S. Virginia St. in Troup. The event will include an open house, emergency vehicles, motorcycles, vendors and food trucks. If the department receives more than the stated goal, those funds will remain in the K9 program for continued K9 care, according to Stowers.
Troop police are hoping to get another bite-free black lab to serve as their police dog. No-bite refers to a dog that has not been specifically trained to bite and hold or put down suspects. The new police dog will be trained for a single use for the detection of narcotics.
"Luke was able to go to schools and I could hold him off leash and he could walk around and we never had any problems. He was very even-tempered, mild-mannered and we wanted to keep it that way," Stowers said, that was the reason for the no-bite workout. "Labs are very smart. I know a lot of trainers opt for Belgian Malinois and German Shepherds. We just wanted to continue Luke's legacy by getting another Lab or another breed of retriever, for that matter.
After receiving only two offers, Stowers said the department would use Pace Setter K9 at Liberty Hill for dog training. Bradley Langham, owner and manager of Pace Setter K9, is a military veteran who trained military working dogs. Langham provided training for Stowers and Luke when Stowers first attended K9 school.
"He actually provided several dogs for Smith County and surrounding agencies with K9s," Stowers said. "We have already contacted Brad and he has told us that he can acquire a retriever for us and start training it."
The last two weeks of dog training will be with the officer who will be the dog handler. Officer Jason Jones, with the PD troop for about three years, was selected as the K9 officer.
"The reason Agent Jones was chosen to be our next handler is that he is our number one counter-narcotics officer and excels at that particular type of work," Stowers said. "He was an officer of the year and he excels at what he does."
For more information on how to donate, contact the Troop Police Department at 903-842-3211.